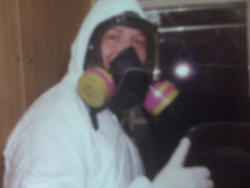 Custom Craft Environmental is a family-owned company with more than 25 years of experience the the field. In our decades of service, we've seen it all! Our professionals have the hands-on skills and knowledge to correctly address situations from mold removal to crime scene cleanup to asbestos removal services. We work hard to address your environmental contaminants, whatever they may be, creating a customized plan to meet your specific needs and get your property clean and safe ASAP. We're here to take care of the mess, no matter how big. Whether you need sewage cleanup, mold remediation, or odor removal, we have you covered.
Free Estimates
The last thing you need when you're facing disaster is hidden fees and surprise charges for your restoration services. That's why Custom Craft Environmental offers free estimates for all of our fire water restoration, mold removal, and biohazard removal services. We believe that you deserve fair, upfront pricing, and we do everything in our power to ensure your estimate is as accurate as possible. Just one of the many ways we take care of our customers, our free estimates can bring you peace of mind. Contact us today to get your free estimate and get started on the environmental hazard removal and restoration services you need.
Emergency Services
Whether you need sewage cleanup or water damage restoration, the pros at Custom Craft Environmental understand that emergencies don't always happen at the most convenient time. That's why our team is available for complete emergency services. You don't have to face this disaster alone—from cleaning up after a backed up sewer to cleaning up crime scenes, Custom Craft Environmental is here to bring you compassionate, safe cleaning and restoration services when you need them. So don't let the problem get worse by waiting to call: get our experts on the scene ASAP and get the most successful water damage restoration, biohazard removal services, and so much more. We're here to take great care of you.
Warranties and Guarantees
At Custom Craft Environmental, we're committed to taking the best care of you and your property. We go above and beyond to perform complete, correct work for your mold remediation or asbestos removal and ensure your commercial or residential space is left totally cleaned and restored, no matter what the disaster and no matter how bad the contamination. And, unlike some cleanup companies, we stand behind our workmanship all the way. Custom Craft Environmental offers great warranties and guarantees on our fire restoration services and more. Call now for details and specifics.
Odor Removal Services
Lingering odors can make your property seem unclean even long after the mess is gone. That's why Custom Craft Environmental is pleased to offer complete odor removal services in addition to our biohazard disposal and fire restoration services. Because a property that doesn't smell clean isn't truly clean! We utilize live natural enzymes to eliminate the odor, not just cover it up. Whether it's the sooty smell of a fire or the pungent aroma of sewage, Custom Craft Environmental is the professional you can trust for complete odor removal. Let us take care of all of your disaster recovery needs, making sure the whole job is done right. Have questions? We'd love to help. Just e-mail or call us and we'll provide you with all the information you need about our odor elimination services.