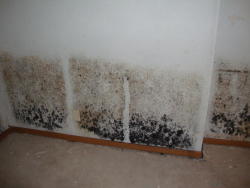 Mold: this little four-letter work can strike fear into the heart of home and business owners alike. But mold problems don't have to be the end of the world. Custom Craft Environmental provides complete mold remediation and removal services throughout the Milwaukee area, and we can help you eliminate your building's mold problems. Yes, this is a serious issue, but we can help you with affordable, effective mold cleanup. Let us make your mold removal process easy, cost-effective, and hassle-free: call today to schedule your free estimate!
Mold growth can create safety and health issues for any property. That's because all molds are potentially dangerous, causing health problems ranging from allergic reactions to respiratory problems. Some types of toxic mold can even cause brain damage and death! If you suspect your building has a mold problem, you need to have it dealt with immediately. Because all mold needs to grow is moisture and a food source (including wood, paper, and glue, all commonly found in building materials), these problems can develop almost anywhere with high enough humidity. So if you have a high-humidity issue or have experienced plumbing leaks or flooding, your home or business probably has a mold problem. But don't despair: Custom Craft Environmental can help you with both structural drying and mold remediation, ensuring the mold is eliminated and won't come back. We're your professional mold removal company in Milwaukee.
Mold Testing and Inspection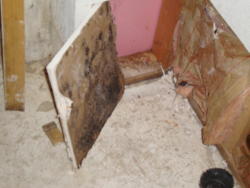 While some mold is easily apparent, not all is as easy to detect. Musty smells and visible spots and blotches can be obvious signs that your home or business has a mold issue, but did you know that mold can also be present inside walls, in the air, and in hard to spot nooks and crannies? That's why Custom Craft Environmental is pleased to offer complete mold testing and inspection services. Our professionals will test your property for mold using the latest tools and techniques, accurately identifying what, if any, mold issues your building has. We then use this knowledge to formulate a plan that's customized to your property and your specific problems. Although DIY kits are available, we highly recommend using professional mold testing services for the most accurate results. For the best in mold inspection and testing services, Custom Craft Environmental is here to help. Contact us today via phone or e-mail to schedule your test.
Mold Remediation and Removal
The first step in any mold cleanup is always containment. That's because spores can be spread during the remediation process, dispersing the mold throughout your building and actually making the problem worse. Custom Craft Environmental uses top-of-the-line containment techniques to thoroughly seal off the area being cleaning, safely keeping all of the mold spores in one place. We then use a combination of processes to completely and correctly eliminate your mold issues. Some techniques can include: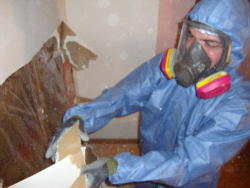 Scraping, scrubbing, or sanding away visible growth
Removing any contaminated building materials like drywall, studs, flooring, insulation, etc.
Spraying the area with an antibacterial agent to help prevent mold from regrowing
Customized to suit your space's particular issues, our mold remediation services are designed to meet your specific needs. And remember, because mold removal often involves tearing out and disposing of contaminated materials, the longer you wait to call Custom Craft Environmental, the bigger the project and the cost. We're ready to be your mold removal company; contact us today to get started.
For complete, safe removal, professional mold remediation is a must. When it comes to mold removal, there are a number of issues at hand including safe containment and thorough removal. For the best results and to ensure your mold problem is eliminated once and for all, it's simply best to leave your mold removal services safely in the hands of the professionals at Custom Craft Environmental. With over 25 years of experience in the industry, we have the expertise you can rely on for everything from complete containment to complete mold cleanup. Don't settle for a job done halfway—Custom Craft Environmental is your solution for the very best in mold remediation in Milwaukee!