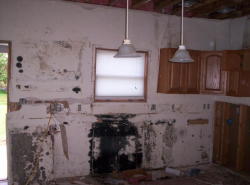 If you find yourself facing the aftermath of a house or business fire, don't wait to call. Custom Craft Environmental is here to help with fire water restoration services. Despite what it may look like right now, a house or business fire doesn't have to be a total loss! Our fire restoration services can help you salvage and rebuild your home or business. Fires are tragedies, but they don't have to ruin your life or your company! Contact Custom Craft Environmental today for fire water restoration in Milwaukee.
Although fire—and the gallons of water used to put it out—can be destructive, chances are that much of your building and belongings can be saved. At Custom Craft Environmental, we specialize in fire and water restoration, and we put our 25 years of experience to work to help you overcome this disaster. We're committed to helping you maximize your fire damage restoration results while minimizing both material losses and stress. Offering compassionate fire restoration services, Custom Craft Environmental is ready to help you put the fire in your past.
For the best results, don't wait to call. Fire and water restoration works best when started as soon after the fire as possible, so call for expert help from Custom Craft Environmental right away! We offer emergency fire and water restoration services, so we're always here to help when you need us. Your full-service fire restoration company in Milwaukee, we can handle the project from top to bottom. From removing soot ash and burnt timbers to odor removal to working with a general contractor to replace destroyed walls, ceilings, and floors, Custom Craft Environmental is committed to getting your home or business looking like new once again.
Combining the latest technology and some good, old-fashioned elbow grease, Custom Craft Environmental has what it takes to perform efficient, effective fire damage restoration services. We begin with a thorough assessment of your property, evaluating the extent of the damage and creating a customized fire water damage restoration plan that addresses your building's specific needs. We offer a broad range of restoration services, and we'll design a solution that meets your particular drying, stabilization, and cleaning needs. Some of our services include:
Structural drying using air movers, dehumidifiers, and other specialized drying equipment
Removal of compromised building materials
Soot removal and sanitizing
Odor removal using ozone generators and negative air machines 
At Custom Craft Environmental, we're here to help you minimize losses and maximize results with prompt, professional, effective fire damage restoration services.
No one ever wants to need fire restoration services, but if you find yourself reeling after a residential or commercial fire, we're here to help. The experts at Custom Craft Environmental offer compassionate, complete fire water restoration to help get your building like-new again ASAP. Let us care for you during this time of stress and devastation. We're here to help you get back on your feet and overcome this tragedy. Contact us today for top-quality fire restoration and the compassionate professionals you can count on.