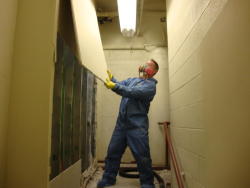 Even though the use of asbestos in construction and industrial products is tightly regulated today, many older buildings still contain dangerous asbestos. If your home or commercial property is discovered to contain asbestos, it's important to have it removed immediately and correctly. Asbestos fibers are extremely dangerous, causing cancer (specifically mesothelioma) and other serious, deadly diseases. When you need help with removal and asbestos abatement services, Custom Craft Environmental is here to help. Providing safe, efficient asbestos removal services, our professionals can eliminate this toxic material from your home or business, helping you get your property safe again ASAP. Asbestos doesn't have to be the end of your business or home—give Custom Craft Environmental a call today for your professional asbestos removal company in Milwaukee.
Offering both asbestos inspections and abatement services, Custom Craft Environmental can help you assess the extent of your asbestos contamination problem as well as safely remove any materials containing the toxin. Our experts are certified and licensed in asbestos abatement services, and we have the skills, knowledge, and specialized tools to ensure your asbestos removal project is done right. We take all necessary safety precautions for ourselves as well as your building, and we work to completely and correctly eliminate all of this dangerous material from your property. When we're through with your asbestos removal service, your building will be clean and asbestos free!
And on top of our removal services themselves, we also help you with all of the legal aspects of asbestos abatement. At Custom Craft Environmental, we understand that the maze of paperwork and government regulations can be confusing and overwhelming, so we work with you to handle all of the legal papers and documentation surrounding your asbestos removal service. We're the asbestos removal company you can count on to go above and beyond—call now to learn more.